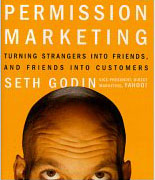 It becomes harder and harder, I think, to be a blogger that gets 'work' from their site and to continue being active in blogging while obtaining this work. I don't know why, but I've seen it happen a lot with a bunch of people I know. Personally I intend to combat it.
Whatever the case, it is true that I have become one of those people that gets work from this blog. Right now I'm working on four seperate projects in design and podcasting stuff, and I don't even really have a company per se. That's an angle I've really got to start rocking.
But I'm starting to see the truth behind this permission marketing stuff; CC Chapman sent me the book for my birthday yesterday (he seems to be making a habit of it) – he's really one of the best people I've ever been able to work with. The book is helping me understand the value behind "turning strangers into friends, and friends into customers". Except I focus on turning them into friends, and turning into customers is happening by itself (so far). I work better with people I like, anyway. 🙂
Whatever the case, I don't want to be one of those people who has turned to business and isn't participating in the stuff that got him started. I still love podcasting, and having been freshly re-energized on the topic, I hope to continue to make a bunch of cool stuff, expanding in all sorts of directions.