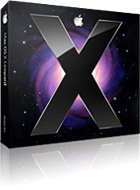 Apple just announced the release date for OS X 10.5, Leopard, and guess what? It's right in the middle of Podcamp Boston.
I have a lot to say about this, but let's keep it brief instead: Don't let this company, the one that took a cash-grab at podcasting, bring the hype into our community event.
Yes, we've been waiting forever, and yes, it'll have great new features, but please. So many people have worked hard to make this event huge and successful– so, I beg of all of you, during this weekend, let's talk about us, and what we can do, not them. Ok?