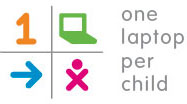 I just placed an order for the One Laptop Per Child program. It's 400 bucks well spent, and I recommend you do the same. It's available as of today for the US and Canada. You get two right now under their Give One, Get One program.
In addition, if you Canadians can find a way to get an American to place the order (like I'm doing), you'll get yourself free wifi at T-Mobile hotspots for a year. If you travel enough, that alone is worth the price of the machines.
Also, as Chris Penn put it, marketers have yet another reason to buy the machines: Thousands of them will be coming online during the holidays, so getting to know them is a great idea.
Anyway, so I get one of them, and the second one I buy is automatically going to someone in need, which I feel great about. Go and order one today.