Your archive page is probably the least considered of your blog's design.
Look at any WordPress blog out there, and you'll see basically the same thing– a sidebar with links, kind of confusing, not much else.
Stresslimit and I decided to solve this by releasing our first WordPress plugin.
Justin, Colin, and the rest of the team I work with worked crazy hard to create an archive page that looked as fresh and different as the rest of my site, and the result was what you see below.
†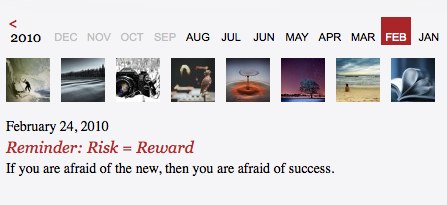 †
I've always thought it's one of the coolest parts of my site, so it's awesome that it's now available for free. We decided to release it as a WordPress plugin, and basically solve everyone's ugly archive problems forever.
What the plugin does
Pulls thumbnails based on images inside the post, automagically.
Customizable colour based on your blog design (inside the Settings menu)
Browsable by month, year, or image
Far more functional and gorgeous than what WordPress sticks you with.
You can try it out by checking it out on my site (or Robyn's or Chris', who just installed it), then download it here and follow the instructions.
Once you've installed it, I'd love to hear your opinion on how it works, what could be improved, or what you like– anything, really.
And now, back to our regular scheduled programming. 🙂