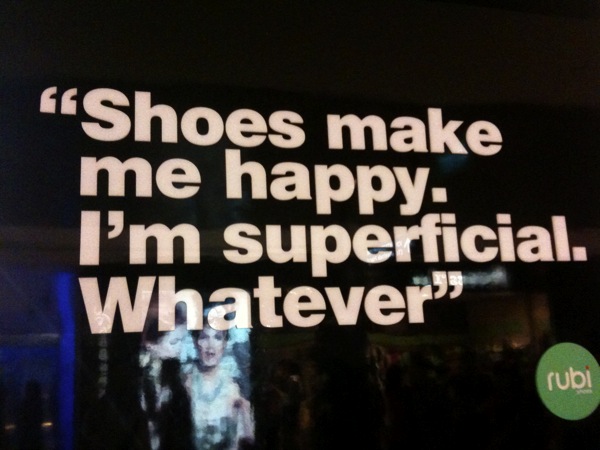 This picture went so wild on my Facebook yesterday that I thought it was deserving of a post. I took it in Singapore in one of the many underground malls.
I happen to think it is genius and very savvy. Reminds me of Diesel's Be Stupid campaign (which is really targeted at smart people).
Because we need congruence, everyone has an internal dialogue that justifies their actions. This campaign speaks to that person– the one who is smart and that knows that they're giving in to consumerism, but accepts it.
It speaks to the same part of you that loves your Apple products and will overpay, or even wait in line, for them.
In the past month or two, I have occasionally spoken to the part in everyone that likes to call bullshit. The posts go wild every time because I use the voice that everyone has, but that they don't usually show. Loren Feldman was known speaking truth to power. It works much better than appealing to the intellect, but it has consequences.
Most people will come here for the ad above. They won't subscribe or click elsewhere– they'll go back to Twitter for the short form. That's something I accept and work with. The elephant needs to get on board for the rider to be able to get somewhere. So this method will continue.
The reason this is frustrating is because that voice can become all that you listen to. I'm afraid this is one of the reasons some people never reach their potential— that voice is easier to give into, but you will always get one marshmallow instead of two if you do.
So even though I appeal to that voice, I try not to follow it myself. I suggest you do the same through a process of hard decisions, made on purpose to create robustness or anti-fragility.
I don't care if you hang from hooks, take cold showers, fast, or read through epic 800 page poems as long as you challenge your identity with very hard things. The process will change you, which is why it's important.
If you do this, you will become stronger.
And then, I think, it'll be ok to buy shoes every little while. Especially if it helps the voice quiet down.