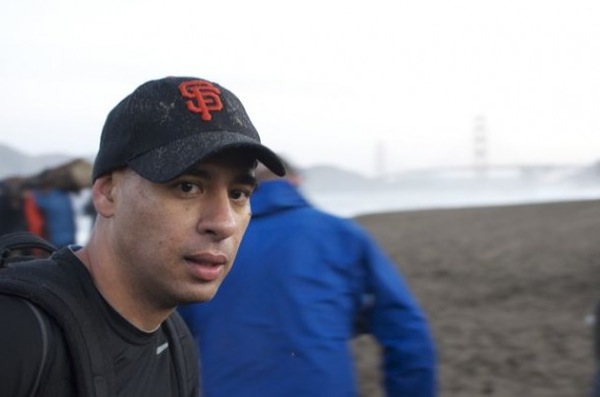 For most, the man needs no introduction. But in case you do, here's one anyway.
Leo Babauta is the founder of ZenHabits, a massively popular blog that is considered by Time Magazine to be one of the top 25 blogs in the world. This is already enough to make him interesting, but actually, there's more.
In November of 2011, Leo completed the Goruck challenge, a 15-20 mile behemoth that pushes you to every limit you thought you had.
The connection to The Flinch seemed natural. If you read it, you'll definitely love this.
Tell me about the Goruck challenge, and why you decided to do it.
They say if you have to ask, it can't be explained. And so of course I'll try to explain it: if you hear about the challenge — 12+ hours of grueling physical tasks with a 55-lb. backpack on your back — and you think it sounds like fun, you're probably right for it.
It's kind of like getting a taste of what the Special Forces guys do in training, but without the weapons. Weighted pushups, lunges, bear crawls, hiking, running, carrying logs, carrying your teammates … this is the kind of thing I wanted to try. I'm not into the military aspect, but I am into physical challenges, and especially into mental challenges. This was, at its deepest level, a mental challenge: you have to find it in you to not quit when it sucks really bad, to help your teammate when he's falling down, to motivate your team to meet its missions. I found out a lot about myself.
I know they say "it's all mental," and I know from Crossfit, walking the Camino, etc, that it's true, but there's also real physical challenge there. How do you know you can do it?
You don't know, and that's the scary part. You should be able to run/hike with a weighted backpack (let's say 30-lbs.) for a couple hours at least. You should be able to do a bunch of pushups, squats, lunges, and bear crawls. You should be able to sprint and run up hills. It requires strength, so practice carrying people on your back and shoulders.
If you can do all that, you should be OK physically. But it will still suck at times, and you'll want to quit, no matter how physically prepared you are. You have to make it through the suck. You have to embrace the suck.

Now we're talking. Ok, describe the moment where the suck occurs. How does it feel when it happens? How do you convince yourself to go on?
You're cold and wet and you've been crawling on the sand for hours with your heavy pack biting into your shoulders and your knees are bloody and your shoulders want to collapse, and you don't know when this will end. Your mind has been complaining constantly, "Why are we doing this? What's the worst that would happen if we just quit and walked away? What are we trying to prove? Is it worth it? You could go home and sleep. Wouldn't that be nice?"
And it's incredibly tempting to give in to your mind, because it is very convincing. We are very very good at rationalizing, especially in the face of pain. It's painful, and you want the pain to end, and you want to just rest. This is what happens when it starts to suck. And that was just the beginning of the suck — there were many other such moments along the way.
I would convince myself to go on first by being aware of what my mind was doing. I would watch my mind as an outside observer, and laugh at my mind and its rationalizations. Then I would pay attention to the ground in front of my face, the waves on the beach washing up near my body, the incredible view of the Golden Gate Bridge lit up at night, and think, "I am incredibly lucky." I would feel the pain and the tiredness, and think, "What a wonderful thing it is to feel." And then I would say, "Just one more step. We can re-evaluate after one more step." Then I'd repeat that after that one step. It also helped that I had a team relying on me, and that I couldn't just quit or I'd let them down.

I lived in a Japanese temple for a while where I did that. To delay the decision to stop meditating, I would say, "I will decide in exactly 30 minutes." And then after that time: "Well, that wasn't that bad, I could do that again."
True, it works for anything. It helped me too when I started marathon training — you inevitably want to stop running, but if you just go a few more steps, you'll be fine.

What I'm trying to figure out is how to make people resistant to the BS of that inner voice. To do it, you need a certain distance from yourself. How did you learn to do it? Were you born that way?
I learned it when I wanted to quit smoking, and the urges would be so strong and the rationalizations would nearly always beat me. I would tell myself, "Just get past this one urge." I didn't even need to go the whole day, just that one urge.
Before I learned this, I would give in to any urge. But when you realize the urge is there — you become self-aware — you learn that you can watch it, and listen to your inner voice. The inner voice is extremely intelligent, and the worst part is that we are usually not aware that it's speaking. We just listen to it without being conscious of it. And it is talking all day long. Most people don't realize how persistent and powerful it is.
Running really helped me to learn to listen to it, but not heed it. I run without an iPod, which means it's just me, the outdoors, and my mind. So I pay attention to the nature around me, but also I have nothing to listen to but my mind. So I listen. And it talks, constantly.
Meditation helped strengthen this skill. Meditation is the same as running — you have nothing to pay attention to but your breathing, your body, and your mind. And your mind is very active. So you watch it, and you learn to be this observer, and it's fascinating if you stick with it.
I've started to think that people should be doing difficult things on purpose, if only to train them to be able to push past their usual habits and internal programming. Do you agree? What other internal walls have you been able to push past?
I haven't found this to be necessary myself, though I'm not saying you're wrong. I do things in baby steps, so that change is easy. I find it much more sustainable than trying to do things that are really difficult.
I also think people are already doing difficult things in their routines — it's incredibly unpleasant to be in a job you hate, to be overweight and unhealthy, to be deeply in debt. I know because I've done those things, but I felt stuck in this difficult life. The baby steps helped me to get out of the routine, to change my internal programming with micro changes.
As for other internal walls … one that I've been exploring is giving up goals. I'm very much programmed to be goal-oriented, and I think a lot of us are. When I first considered giving up goals, I thought it was impossible and stupid. But slowly I've been learning that it's a much better way of thinking, at least for me.

Explain "giving up goals." Did it help you complete the Goruck or was that something separate?
As I looked deeper into what's necessary and what's not, I started to question the need for goals — are they really essential? What would happen if you gave them up? Are they really the driving force behind what we accomplish? I've found that they are unnecessary — without goals, you'll still work on things you're passionate about, and do fun fitness activities and other things that excite you.
Goals take credit for our accomplishments, but our passion and interest is what really make things happen. Goals also add a lot of administration — goal setting, tracking, making sure you're sticking to the goal, finding next actions, etc. Goals stress us out — if we're not on track or don't reach them, are we failures? Goals also fix us on a certain path, when in truth there are many possible paths and staying on one predetermined path with a fixed destination is an artificial limitation that's completely unnecessary and unnatural.
When you remove this limitation, you are freed to do anything.
When I did the Goruck Challenge, I didn't have "finish challenge" as a goal. I just wanted to have fun doing a new challenge. It didn't matter to me if I finished or not. However, when I felt like quitting, I decided to stick it out through the urge to quit, to explore what that's like. I think it's a really interesting experiment, pushing past these urges to quit, and so that's what I did. So yes, it did help me to finish.
"Free to do anything." That is the perfect final sentence.
Last question: After all this progress you've made, is there anything you still feel any anxiety about? What do you still have problems with, if anything?
Sure, I have all the same insecurities as anyone else. I get anxious about unfamiliar social situations, public speaking, will people like my writing, am I good enough to write fiction? I have fears, about financial security and being alone and whether my life is meaningless.
The key I think is whether I let those insecurities and fears stop me from doing the things I love. I'm learning to watch those feelings, like an outside observer, and realize that they are not a part of me, but just something that happens. They are natural phenomena, like the sun rising or leaves changing color, but they are not who I am. So I watch, and let them happen, and don't let them define me or what I do.