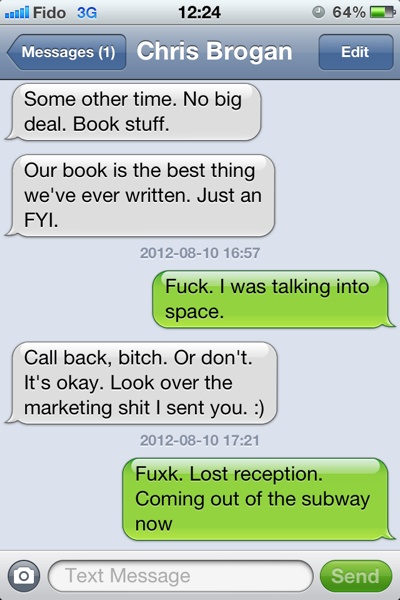 The process of book writing is way different with a co-writer.
First of all, it would be impossible without Google Docs. We simultaneously write into a document and edit each others' work all the time. Some sections stay recognizable; others, not so much. Sentence structure changes. Jokes are added. Sections are moved.
At the end, when you're reading the book in galley form, it's almost like you're reading it for the first time.
In fact, my co-author Chris texted me a few weeks back and he was like "The book is the best thing we've ever written. Just an FYI." Both he and I were genuinely surprised by this because the process of co-authorship can result in all kinds of things. 🙂
Anyway, in about six weeks, Portfolio/Penguin will be publishing The Impact Equation, my third book and Chris' fourth. We're pretty excited about it. Like him, I think it's way better than our previous book together. I'm proud of it.
The book distills basically everything we know about how to make bad ideas into good ones, helping them spread, and building audience and community.
Basically the book is about making yourself an online powerhouse, something that Chris figured out early on and I, due to laziness, only figured out much later. 🙂
If you've gotten anything out of this blog in the past little while, I hope you'll give the book a chance and pre-order it. You'll probably get a lot out of it. Or hey, at the absolutely minimum, it makes a great thank you if you appreciate my work. 🙂